I've been meaning to update the blog for a little while but have found time today finally!
3 posts in 2 months isn't too bad really by my standard.
Painting, I finished my first crew of this year! I'm aiming to get at least 5 done this year after the last 2 years paultry output.  Yan Lo in all his glory
Happy with the way the crew turned out. Izamu's eyes were my first proper attempt at OSL other than a couple of half-arsed ones, think I'll be trying it a bit more with other stuff.
Next crew box I'll be doing is Salvage and Logistics, make a start on playing the Outcasts I've wanted to play for a while.
I've made a start on other goals for this year too, I've entered 2 best painted contests at tournaments which is already half of what I did last year!
I won both of them as well with the Yan Lo crew which I was pretty shocked about, other people not so much, but I'm always suprised if I win a best painted.
Gaming wise I've tried out Yan Lo which I'll try more of, I think he's probably lacking in some respects as everyone says but think I might enjoy him. Only more games will tell.
I've been trying to get Seamus to finally work for me after a few failed attempts since M2E started, but I think I've finally cracked him which pleases me immensely as he is one of my favourite masters in terms of fluff and style.  Now I understand the way he plays a lot better, I really like his playstyle too as it's very thematic to his background and fun.  I also feel it satisfies certain sets of strats and schemes that other Ressers struggle with so win:win
Kirai has only seen table time lately at tournaments for me and I had a single game with Jack daw also, someone who I want plenty more with.
Continuing with the getting along with my aims for the year, my competative game keeps getting better I think.  
In the LoEH I played with Ressers (Kirai/SeamusKirai) against (Lilith/Pandora/McCabe). First game was very close, I managed to take out Nekima before she could do too much damage and managed to just deny one point of turf war making a 10-9.  2nd game was cool, Nekima killing off a very wounded Pandora to gain melee master and wreak havoc. 3rd game I was on table 2 last round in contention for 2nd place of the tournament, timing called at a very in-opportune time for me and meant I ended up losing by a point.  If it was called 30 seconds either way I would've won by a point minimum. Frustrating, but thems the breaks.
Then I played in Ante up taking Ressers again (Seamus/Kirai/Seamus) against (Pandora/Kirai/Kaeris) a memorable moment in the first game was my copycat killer lobbing the head of a fully fit Nekima with a flourish and then dying to black blood!, it took some patient waiting and a bit of set up but well worth it!  The Kirai-off was a very tactical tit for tat game but good fun.  The last game would have been a lot closer if it wasn't for my awesome luck getting iniative just when I really needed it even though the odds were against me, making me able to heal up Seamus to full from 1 wound left, and able to still score Entourage.
I ended up on 3 wins at the end of the tournament and taking out first place! as well as 1st for painting!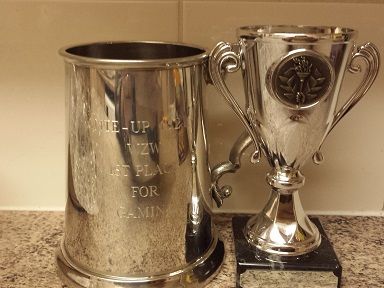 That's pretty much my hobby since last post, hope to get another entry in soon after I complete more models or go to another tournament!